In a celebration of innovation and entrepreneurial spirit, Arizona State University and the City of Chandler recently hosted the official grand re-opening ribbon-cutting ceremony for the ASU Chandler Innovations Center, a building where ProCARE currently offices.
This exciting event marked the beginning of a new era in collaborative workspace, education, and incubation, as well as a testament to the area's commitment to fostering innovation. ProCARE, a leader in healthcare solutions, proudly participated in this milestone event, with CEO & Founder, Jack Liu, cutting the ceremonial ribbon.
The ASU Chandler Innovations Center, situated at the heart of a vibrant community, has now expanded its capabilities to accommodate even more innovative minds. The ceremony unveiled the launch of a state-of-the-art co-working space within the ASU Chandler Innovation Center, providing entrepreneurs and startups an environment to share ideas, collaborate, and propel their projects forward.
The event also marked the start of the Chandler Endeavor Venture Innovation Incubator. With a home right within the walls of the ASU Chandler Innovations Center, this incubator promises to nurture startups through mentoring, resources, and strategic guidance, setting them on a path toward success.
The grand re-opening ceremony was marked by the presence of notable figures who share a passion for innovation and community development. Chandler Mayor Kevin Hartke, along with ProCARE's Founder and CEO Jack Liu, had the honor of cutting the symbolic ribbon. In addition, Congressman Greg Stanton lent his support to the event, further emphasizing the significance of this collaborative endeavor.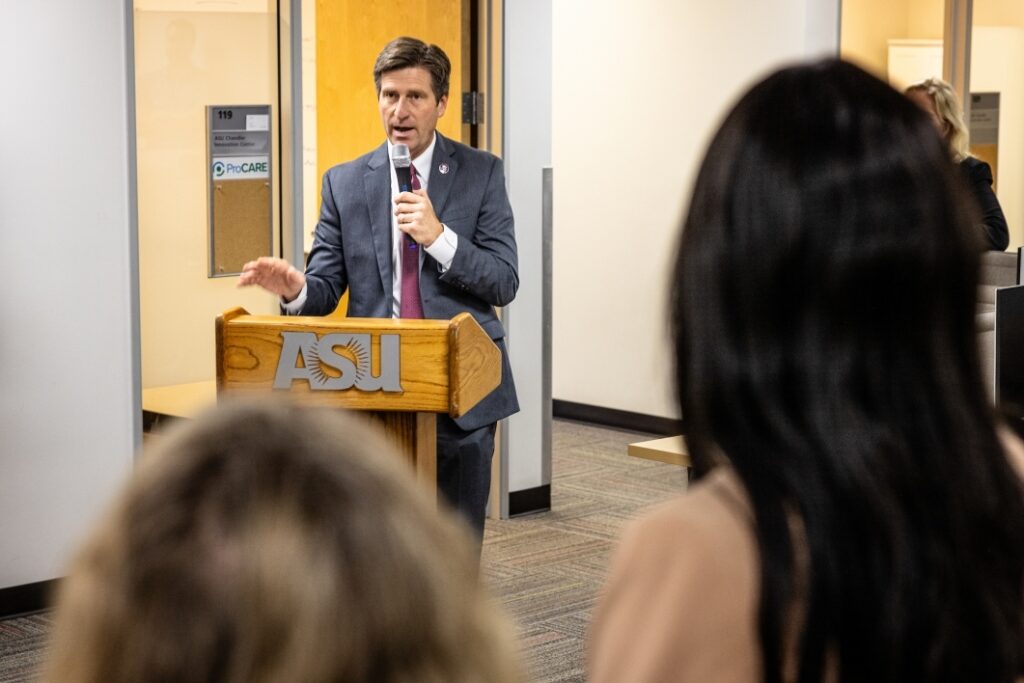 ProCARE and the Entrepreneurial Spirit
ProCARE, a clear leader in healthcare solutions, stands as a prime example of the entrepreneurial excellence that the ASU Chandler Innovations Center aims to cultivate. With offices currently housing their operations within the Innovations Center, ProCARE is deeply embedded in the innovative ecosystem.
Additionally, ProCARE has been an integral part of the Chandler Innovations Entrepreneur Program, previously participating in the entrepreneurship program. This program, known for its commitment to developing ground-breaking projects and companies, played a pivotal role in shaping ProCARE's trajectory.
ProCARE and Innovation
At ProCARE, innovation is more than just a buzzword; it's an integral part of our core values. ProCARE embodies the CARE Culture®, a philosophy that places importance on the happiness, success, and well-being of every individual within an organization. By fostering a culture of transparency, empowerment, and growth, ProCARE provides our teams with the tools they need to drive efficiency and foster innovation.
In the healthcare space, ProCARE's approach is proof of the fact that when teams are empowered, the entire ecosystem thrives. By harnessing workforce innovations and a commitment to transparency, ProCARE is spearheading positive change and driving the industry toward a brighter future.
Interested in joining us and embracing the CARE Culture®, as together, we shape the future of healthcare through technology and collaboration? Learn more about applying here.