Our ability to automate and optimize even the most complex compensation plans is one of the core differentiators of our solution. The ability to do this stems from both our deep multi-faceted domain expertise and our comprehensive, transparent and collaborative implementation process.
We believe it is important to begin the implementation conversation during the sales process – not after. Undergoing a change as significant as adopting a compensation management software requires specific and expansive resources both from the client and ProCARE, and it's critical that these elements are discussed before an engagement begins so there are no surprises down the road.
Physician Compensation Strategy: Laying the Foundation for Success
We follow an implementation methodology that defines project roles and responsibilities, as well as deliverables. Configuring data interfaces, business rules, reports, dashboards and other outputs that support the automation of compensation processing and management as well as the implementation of a solution that can scale and grow with your organization, requires a collaborative approach and commitment.
Our team encompasses experts in incentive compensation management (ICM), compensation management software and healthcare operations, empowering us to lead the discussion and provide best practice recommendations regarding:
Design decisions
Data integration processes
File formats
Compensation workflow and plans
Reporting
Compliance
Our Tried and True Implementation Methodology
Our implementation methodology consists of five distinct phases, spanning a five-month average timeframe, to appropriately integrate with your physician compensation strategy. Each phase contains tasks and deliverables that are assigned responsibilities of either the ProCARE team, the client team, or shared responsibilities of both teams.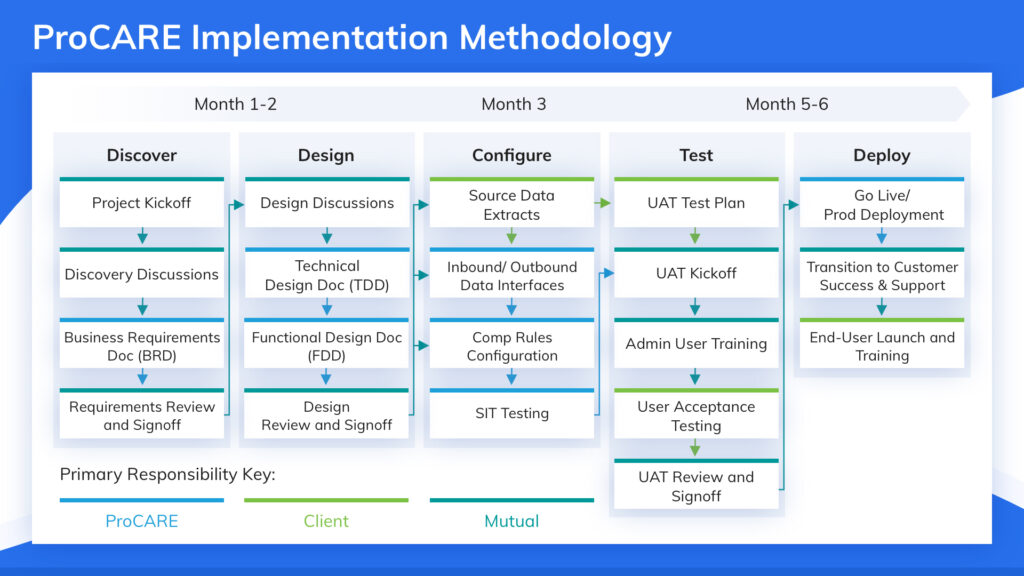 Phase One: Discover
The project begins with a Discovery phase to gather requirements and to ensure we have a deep understanding of the client's current state (and if available, future state) compensation components, business requirements, and data requirements. In this phase, the primary deliverable by the ProCARE team is the Business Requirements Document (BRD) that will clearly define the scope of the implementation and answer the questions of "what" are we going to implement and deliver.
Phase Two: Design
Next, in the Design phase, we analyze the business requirements to determine the optimal functional and technical design as we answer the questions of "how" each requirement in the BRD is going to be implemented. The primary deliverables of this phase is 1) the Functional Design document (FDD) that addresses the adjudication of compensation rules, plans, statements and dashboards and 2) the Technical Design Document (TDD) which provides the data integration specifications.
Phase Three: Configure
Then, we move to the configuration phase where the ProCARE team is responsible for configuring the environment per technical and functional design specs. This includes data interfaces to automate inbound data loads from client source systems into ProCARE as well as outbound data extracts from ProCARE to downstream systems. It also entails the configuration of compensation rules and business logic to support compensation calculations and reporting. The completion of this phase will be marked by a successful System Integration Test (SIT), which is an end-to-end test from inbound data loads to compensation results and outputs.
Phase Four: Test
The Test phase will start by kicking off User Acceptance Testing (UAT), to discuss the UAT test plan, which is a prerequisite of UAT developed and delivered by the client team, and to sync up on the overall testing strategy. Fundamental training for administrative users will follow and allow for the client team to thoroughly validate and test the platform functionality, compensation results, and outputs. Access to the platform will be provided to unlimited admin users and various sample business roles and business groups established to test and validate data and module access.
Phase Five: Deploy
In the final Deploy phase of our implementation we will deploy to the production environment and prepare for 'go live'. We will also transition the implementation to our Customer Success & Support (CSS) team and provide internal knowledge transfer for on-going support and introduce the assigned Customer Success Manager (CSM) who will present and review the ProCARE CSS model with the client team. We will also help the client administrators in planning and facilitating the end-user launch and training for providers.
Implementation Services
The services ProCARE provides within the implementation process includes:
Data Integration Workstream

Historical data conversion
Organizational data interface automating provider demographics data
Referential data interface(s) automating compensation data elements
Transactional event data interface(s) (Charge/RVU/Encounter/Collections data; Provider payroll data; Value-based data elements (Quality, Patient Satisfaction, etc)
Outbound data/reports


Compensation Configuration Workstream

Compensation rules & logic
Reports & dashboard configuration
System and data access / permissions by role
Project Planning & The RACI Matrix
Before beginning an engagement, it's important to understand the project timeline, tasks and deliverables by phase and responsibilities. These items are discussed in detail prior to launch, allowing us to transparently discuss and address any potential challenges or barriers that we may encounter along the way
The RACI Matrix
The RACI Matrix is a breakdown of the Implementation Phases, tasks, estimated timelines as well as roles and responsibilities split between both the client and ProCARE.
(R) Responsible: Responsible for performing the task
(A) Accountable: Accountable for making the business decision or delegating specific tasks to other teams
(C) Consulted: Consulted for inputs and feedback; however agreement or action on input is not required
(I) Informed: Informed of the final result, task completion, and/or deliverable
Click here to download the full RACI Matrix.
Client Resources Required During Implementation
In order to conduct a timely and successful implementation, ProCARE requires interaction with various client personnel throughout the process. In some cases, a single individual may be responsible for more than one of the roles, but in general we anticipate meetings with personnel who would cover the roles outlined below (with anticipated utilization percentages to assist with team resource planning):
| | | |
| --- | --- | --- |
| Role | Description | Utilization |
| Project Sponsor | Executive who has commissioned this project. Understands mission, goals, key issues, and vision for the future. Can provide high-level guidance to the client team and can mobilize client resources as needed. | 0-5% |
| Project Manager/Lead | Responsible for day-to-day activities of personnel assigned to assist with this project. Help schedule and deal with logistics for all meetings. Participates in review of interim deliverables. May or may not be familiar with overall processes under evaluation. | 50-70% |
| Business Process Area Leads/SMEs | Business personnel with strong subject matter expertise in key areas that will be evaluated. Participate in discovery sessions and assist with review of interim deliverables as needed. Primary involvement will occur during Discovery and UAT phases | 10-100% |
| Technical Leads/SMEs | Personnel with strong technical expertise in systems & technical tools used in the key areas that will be evaluated. Participates in discovery sessions as appropriate and assists with review of interim deliverables as needed. Primary deliverables will occur during configure when data integration modules need to be completed. | 10-100% |
| QA Resources | Business personnel that can be equipped with the subject matter expertise required to execute User Acceptance Testing. | 10-100% |
Begin Automating Compensation Management within Your Organization
If your organization is in the process of evaluating compensation automation software, these are all key considerations to keep in mind. The selected provider's implementation methodology and process can be the key determinant in a successful transition from manual and burdensome compensation management to a streamlined and automated compensation solution.
Eliminate the burden of manual processes, human errors and disparate data.
Get started today with an Introductory Call with ProCARE's compensation
management solution experts. During this quick 15-20 minute conversation, we will define your primary comp management challenges and identify solutions to automate and optimize your processes.